CBRA INDIA CHOOSES INSTAMOJO TO SOLVE BIGGER PROBLEMS OF SMALL BUSINESSES
CBRA is an authorized e-commerce development partner. Instamojo is India's simplest online selling platform empowering small, independent businesses, MSMEs, start-ups, and DTC brands with online stores, landing pages, and online payment solutions to help them run their eCommerce business successfully….#cbraindia #ecommerce #Instamojo #buisness #onlineshopping #DigitalIndia
DIGITALL LOGO, DESIGNED BY CBRA, LAUNCHED BY HIS EXCELLENCY THE FORMER PRESIDENT OF INDIA DR. A.P.J. ABDUL KALAM
Wow! Feel honoured and proud to see DigitAll Logo, designed by Cbra, Launched by His Excellency the Former President of India Dr. A.P.J. Abdul Kalam and glad to have been associated with DigitAll Forum right from the beginning. At the outset, we express our gratitude to the TN Chamber Committee members and Digitall Forum members to have had faith in Cbra.
DigitAll (A forum of TN Chamber Foundation) – officially declaring its commitment to create awareness & educate Digital Knowledge to everyone as no one should feel isolated in Digital India!
BUSINESS OPPORTUNITIES THROUGH DIGITAL BRANDING – SESSION NABARD
Madurai Agribusiness Incubation Forum (MABIF) is an initiative of the National Bank for Agriculture and Rural Development (NABARD) & Tamil Nadu Agricultural University (TNAU) to promote agribusiness in the southern region of Tamilnadu. We're happy to be part of this cause of effectively creating rural transformation by providing start-ups and early-stage agribusinesses with our experience and business opportunities through digital branding
DIGITALL SANGAMAM
Cbra would like to mark its heartfelt gratitude to DigitAll India for extending the opportunity of rendering collaboration & making us the Knowledge Partner for the successful fourth edition of #DigitallSangamam. DigitAll's Sangamam 2019 convened by Mathan Vibranarayanan, Vice Chairman – DigitAll was a grand and successfully full day technology conference in Tamil celebrated on 19th October 2019 at TN Chamber.
A DAY WITH Mr. KUMAR VEMBU CEO AND FOUNDER, GOFRUGAL
We are happy to share our Creative Director Mathan Vibranarayanan's meeting with Mr. Kumar Vembu, CEO – GoFrugal Technologies Pvt Ltd, in his Madurai office. Big tech companies establishing a high-end, global technology development centers in Madurai, pull attention from every sectors including shareholders, customers, employees, the media, the government, community organizations, and more. Your distinguished perspectives and deep thoughts of yours inspired us as always, Sir!
TRAINING @ GUJARATHI SEVA SAMAJ
Happy to be a part of the Youth Multi Talented Skill Development Workshop organized by PYF of Jain Community for Kids between 14Yrs – 20Yrs. Our Creative Director Mathan Vibranarayanan admired the interest and dedication of these kids put together for such an awesome program. Having hands-on experience with the kids here has given him a new perspective to the journey ahead. The kids were amazing, so much energy and so much love to give.
SOCIAL MEDIA BUSINESS MEET
Best part of learning is sharing what you know! Happy to be a part of Social Media Business Meet Madurai initiated by – Makkal Pathai Organized by Adada Creators partnering with Rotary International. Sharing stage with Youtubers Irfan's view, Tech Boss, Tailor Bro, Adada Creators and many trend setters.
JOURNEY WITH A VETERAN HOTELIER
Our Creative Director Mathan Vibranarayanan is with Mr Arul Murugan, Founder and Director, https://wythotels.com a good friend, well-wisher and most ambitious person when it comes to Hospitality and F&B Industry. His ideas and vision for this industry have always been far ahead of what people expect to be. CBRA's grateful for his continued patronage.
YES ENTREPRENEURIAL MOTIVATIONS
Happy to share the Recognition of our Creative Head, Mr. Mathan Vibranarayanan for being an active YES Buddy Member at Young Entrepreneur School Madurai Anniversary Celebrations by Vice Chairman YES Mr. Rajesh in the presence of President Madurai Chapter2 Mr. Saranyan!
BIZCOVER INDIA EXPO 2022 – AN INTERNATIONAL MULTI SECTOR VIRTUAL TRADE EXPO
Adding another feather to CBRA's cap, great opportunity to develop a versatile online platform where all the Indian MSME's promote their products and services. This portal is an ideal platform for buyers and sellers from across the globe, who can interact with each other and conduct the business effectively. CBRA provided a cutting-edge technology, delivering complete digital marketing solutions for B2B. We take immense pleasure to thank Bizcover IndiaTeam, Export Promotion Centre (EPC), Tamil Nadu Chamber Foundation, Tamil Nadu Chamber of Commerce andIndustry and DigitAll for trusting us on this project.
BUILDING THE TECHNOLOGY COMPANY
Being in the organizing committee through DigitAll we were able to connect, mentor and collaborate the Techpreneurs of South. Digipreneur Meet-up was made a successful program only because of Mr. Gopi Koteeswaran (Former CEO – Latent View Analytics, Chair – TiE Deeptech) and accompanied by Mrs. Akhila Rajeshwar (Executive Director – TiE Chennai)
TEAM HELO APP VISTING US
Team from Helo visited us, Helo social media app that enables you to browse endless amazing content that is relevant to what's happening around you and worth discussing about!
Indian National Trust for Art Culture and Heritage (INTACH)
Unconditional love for the birth 'Madurai and surroundings' led to join hands with Indian National Trust for Art Culture and Heritage (INTACH). We commit and volunteer for services towards the protection, promotion, and preservation of the art, culture, and heritage of Madurai.
TALK @ INDUSTRY TRADE DEVELOPMENT CENTRE
Pandemic in the business environment has majorly impacted almost every entrepreneur in the world, ITDC has most importantly taken up the responsibility to educate, create awareness and guide the fellow members to sustain this situation. Talking about the impact of technology like metaverse among traders and manufacturers especially in the food business was great exposure and their interest in knowing something new was inspiring.
ECONOMIC CHAMBER – MADURAI
We strongly believe Digital Branding is the quickest and cost-effective way to make your product or service reach your customer's mind. Madurai Economic Chamber one of the most young and dynamic trade association invited to show how Do-It-Yourself digital branding can help the most for their member's businesses to succeed.
TANSIM CEO SIVARAJAH FELICITATION
Tamil Nadu Start-up and Innovation Mission (TANSIM) aims to provide an enable and innovative ecosystem in the State of Tamil Nadu. The main objective is nurturing innovation, promoting investments in R&D, infrastructure support, knowledge creation, technological development and skilled manpower, resulting in high-growth entrepreneurial ventures in the state. It was an honor and privilege to congratulate and felicitate our mentor, well-wisher and a good friend Mr.Sivarajah Ramanathan for being appointed as the CEO of TANSIM.
TRADEMARK 'CBRA'
CBRA is a registered brand under the Government of India through the Controller General of Patents Design & Trademarks, Department of Industrial Policy & Promotion governed by the Ministry of Commerce & Industry. Brand "CBRA" is registered under class 42 which covers Technological Services such as website design and development, logo designing, AV Solutions and Graphics.e
ADDRESSING MBA GRADUATES OF THIAGARAJAR SCHOOL OF MANAGEMENT
We are happy to share about this wonderful knowledge sharing session with a room full of enthu brimming Boys of Thiagarajar School of Management, Madurai organized by Mr. Suraj Velshankar…
Our creative head, Mr. Mathan Vibranarayanan, sharing his heartfelt journey of being an Entrepreneur with the young minds!
Centre for Education Development Action and Research (CEDAR)
CEDAR is an NGO established in 1994. CEDAR, for more than 2 decades, largely worked for the abolition of child labour in Viruthunagar, Thuthukudi and Thirunelveli districts of Tamilnadu, reaching out to 144 child labour prone villages. Now they're working for children and youth coming from the most marginalized and excluded communities in Tamilnadu to help them realize their 'creative potentials' and 'agency'. www.cedarindia.org Team CBRA wishes them a hearty Congratulation for the website launch!
CUSTOMER THANKS GIVING – SOUNDS GOOD HEARING CARE
We are Extremely Happy to let you all know about the Recognition from one of our Esteemed Clients Sounds Good Hearing Care on their 25th Anniversary! We wish them all Success in each and every endeavour of theirs!
GODADDY RECOGNITION
Yet another recognition! It's a happy and proud moment for us to get featured by #GoDaddy in their list of #Hustlers! Looking forward to many more milestones together in this digital journey!
When started it was just a passion for design, today over a decade we realize it has become our responsibility to make a notable positive impact for every business we work for. We never fail to represent our client's products/services in every opportunity in our walk of life. We strongly believe adding a tinge of digital presence to every business as suitable for its nature can make a great leap forward to their success in the new normal. This association with GoDaddy and their recognition confers the pillars of progress towards achieving the goals of all three.
DIGITALL CONFERENCE TN CHAMBER
DigitAll is one of our close to heart organizations. This journey is more than six years now and we never lost the excitement since day one. At CBRA, being in the technology industry business we always wanted to give back to the community in our own way. We thank DigitAll for giving us that opportunity.
DigitAll Sangamam 2021, being one of its kind Technology Event in Tamil, it was a hybrid version of both Virtual and Physical. Globally recognized domain experts and tech giants participated to share the future of technology and its impact in small businesses. This event was organized by DigitAll family, a tribe of technopreneurs with different domain experts aligned together for one dream of APJ taking technology to the roots.
ARCHITECTURE STUDENTS FROM KALASALINGAM UNIVERSITY
We have known "Tamil Nadu is one of India's leading Knowledge Hub" but today we realized when the entire south met under one roof. Aspiring Architects from Kalasalingam School of Architecture based from Kerala, Karnataka, Andhra and Telangana visited CBRA's office to learn and explore our journey and opportunity in the Design and Digital Branding Industry. We thank them for choosing us in the world full of choices.
ZOHO CRM TRAINING WORKSHOP
Giving back has always been a part of CBRA's agenda right from its incorporation. We're thankful to DigitAll and Export Promotion Centre – TN Chamber for giving us that opportunity to be a part of the organization and its programs continuously.
The session "CRM Solution for Growing Businesses" was an eye-opener and gateway to scaling up small businesses. We thank Team @ Zoho for giving us a wonderful experience and teaching us the product along with the values and culture of their organization.
SRIKRISHNA NAGAI MALIGAI E-COMMERCE WEBSITE LAUNCH
Grand gala launch of E-Commerce website developed and maintained by CBRA for Madurai's Landmark jeweller Sri Krishna Nagai Malligai by Shri. Balaram Govinda Das.
VISIT OF SEASONED AND PASSIONATE HOTELIER
It was an honour to host Mr Roop Chadda, Senior Vice President at The Residency Towers Hotel, A seasoned and passionate Hotelier, Founder of Roop Chadda Hospitalty Consulting one of the most popular consultant in India guiding Top Hotels and Owners on Strategies of Hotel Business.
CHARTERED ACCOUNTANT BY PROFESSION AND TECHNOCRAT BY PASSION
With high respect we thank CA Dungar Chand U Jain (DC Jain) Chairman of SIRC of ICAI (2020-21) for immediately accepting Mathan Vibranarayanan's request, conducting an effective and engaging session on Mastering Advance Microsoft Excel for Entrepreneurs on behalf of DigitAll India.
DIGITALL VILLAGE – CORPORATE SOCIAL RESPONSIBILITY (CSR)
Felicitation is just the beginning, We are today leaving our strong footprint at Varichiyur Village by empowering nearly 100+ Villagers with knowledge and skill to make them feel and stay together in this fast-growing Digital World, held on 06/01/2019.
PRESENTATION AT BNI
Mr. Mathan Vibranarayanan's presentation on Digital Branding could not have been more spot on, as to what BNI attendees needed to hear and learn. Also, his presentation style was engaging, energetic and educational – it doesn't get much better than that! on 27/11/2018.
WEBSITE AWARD
Tamil Nadu Small and Tiny Industries Association (TANSTIA) -Friedrich Naumann Stiftung fur Die Freiheit (FNF), Germany has awarded Cbra's esteemed client Angammal Agro Foods for "Implementing website development and online marketing". This website has been developed by Cbra, on 22/11/2018.
ADDRESSING YOUTHS OF SVN COLLEGE
Meeting up students bring an air of youth along with you'll experience a hint of nostalgia. It brings memories rushing to the forefront of our minds of the past, allowing us take responsibility in future, on 21/03/2018.
RITCEED – IT STARTUP MANIA
Understanding our responsibility as an entrepreneur to be a part of nation building, We had a wonderful opportunity in addressing the students of non-business studies interested in developing their entrepreneurship competences and put their ideas into reality at RAMCO INSTITUTE OF TECHNOLOGY on 10/03/2018.
PROUD MOMENT WITH MR. GNANASAMBANDAN
Pongal started so special to be a part of the SVS family's new initiative "Parambariya – YouTube Channel". And day well spent with a man who has a great smile, makes us laugh, is very ambitious, who has a good heart, 14/01/2018.
ASSOCIATION WITH VENDORS
Sharing business with such an ambitious partner is truly a great experience! Wishing you a successful business year ahead team Priya Computers! held on 09/12/2017.
STARTUP PAYANAM
"From Where you were to Where you are now". Supporting and being a part of a great event #StartupPayanamMadurai held on 09/12/2017.
OFFICIAL DESIGN PARTNER FOR THE VIBRANT TAMILNADU – AN INITIATIVE OF TN CHAMBER
Team CBRA extends its warm Gratitude to the Organizers of Vibrant Tamilnadu, for giving us the opportunity to be the Official Design Partner for the event. We also feel happy that the event created a milestone and became a massive success. Looking Forward to work in all the upcoming editions of Vibrant Tamilnadu, held on 12/08/2018.
AUTHORIZED GOOGLE G SUITE PARTNER / RESELLER
Cbra is now an authorized Google G Suite partner/reseller in India having the potential to collaborate with you, with a single goal of taking your business to the next level. We are one of the most reliable & experienced in providing support for Google G Suite for business – to organizations of all scales and types.
THREE BEST RATED
Handpicked by the "Three Best Rated" website as The Best Web Designers in Madurai based on their 50-Point Inspection includes everything from checking reviews, ratings, reputation, history, complaints, satisfaction, trust and cost to the general excellence on November-2017.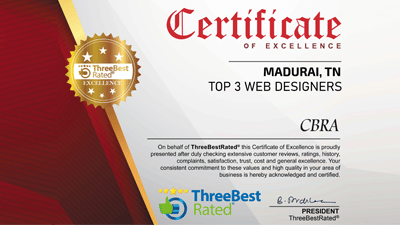 DIGITALL 2ND ANNIVERSARY CELEBRATION
A Milestone that was celebrated with after year-long Digit All programs, workshops, New launches, Appreciations and Recognition with lots of fun. The whole event was part of Digit-All 2nd Anniversary Celebration on 30/09/2017.
KALAM'S DIGITALL VILLAGE INAUGRATION
At Cbra, we believe that social responsibility and sustainability deliver added value to our clients, employees, business partners and the communities in which we live and operate. To do so, we are working with DigitAll, a digital knowledge forum of Tamil Nadu Chamber of Commerce & Industries and we support and encourage its activities to actively participate in community development., held on 22/09/2017.
ROTARY CLUB MEETING
Another happy day.. Was invited to address one of the iconic forum "Rotary Club of Madurai West" on topic "Do It Yourself – Digital Marketing", held on 06/10/2017
JUNIOR CHAMBER INTERNATIONAL (JCI) – GUEST SPEAKER AND FACULTY FOR THE EVENT
On behalf of DigitAll, Session on Internet Business and Income Opportunities Online for members of JCI Madurai Dynamic was held on May – 29, 2017 by Mr. Mathanraj Vibranarayan @ Cbra as a guest speaker and faculty for the event.
ADVERTISING AGENCY ASSOCIATION MEETING
Advertising Agency Association is the official regional organisation of advertising agencies, formed to promote their interests so that they continue to make an essential and ever-increasing contribution to the industry and public. Being a part of this forum, We shared few knowledge of Digital Money and adoption of digital payments, to achieve the vision of Digital India and to enable a seamless Digital Payment experience in their businesses, held on 11/01/2017.
CYBER CRIME CELL MEETING – DIGITALL
We are honoured to be a part of DigitAll's session with the presence of Respected Inspector Shri Senthil Ilanthiraiyan and Sub Inspector Shri Karthick – Cyber Crime Cell, Madurai held on 11/03/2017.
MDU INSTITUTE OF CHARTERED ACCOUNTANTS OF INDIA WEBSITE LAUNCH
Cbra is pleased to announce that we have launched a new website for Madurai – Institute of Chartered Accountants of India (madurai-icai.org) ICAI – Institute of Chartered Accountants of India on 27/02/2017.
FIRESIDE CHAT EVENT IN YESCON 2017
We got selected as the most significant learners of YES by the Chairman YES and Convener YESCON. And participated in a Fireside Chat Event in YESCON2017 held on 27/01/2017.
THE INTERNATIONAL QUALITY SUMMIT AWARD (IQS) – GOLD CATEGORY
We are very pleased to be selected for 'The International Quality Summit Award (IQS) – GOLD Category' by Business Initiative Directions – NEW YORK. To be recognized for the quality of our service from an independent international organization such as BID gives us the opportunity to show the world what we can do. We are proud to be recognized for this award and be part of this international community.
CBRA – GOOGLE ADWORDS CERTIFIED PARTNER
We are proud to announce that Cbra is a Google AdWords Certified Partner! This certification recognizes our expertise in creating and operating AdWords, Google's online advertising, pay-per-click (PPC) system and reaffirms the quality of work we have been providing advertisers with, over the years.
DIGITALL FIRST ANNIVERSARY (A FORUM OF TN CHAMBER FOUNDATION)
We are excited to announce that Cbra is one of the official Knowledge Partner for Digit-All India and honored by the recognition received from Mr. V. Ponraj – Scientific Advisor – Former President Dr. A. P. J. Abdul Kalam, along with the presence of Mr. S. Rethinavelu – Sr. President – TN Chamber and Mr. J.K. Muthu – Chairman – Digit-All on the first anniversary of Digit-All held on 24/09/2016.
DigitAll (A forum of TN Chamber Foundation) – officially declaring its commitment to create awareness & educate Digital Knowledge to everyone as no one should feel isolated in Digital India!
GOOGLE DIGITAL UNLOCKED CERTIFICATE for DIGITAL MARKETING TEAM OF CBRA
Digital Unlocked – an initiative by Google in association with FICCI and Indian School of Business. By gaining this certification, we now join an exclusive group of marketing professionals who manage AdWords accounts for clients of all sizes.
RESELLER – GOOGLE APPS FOR WORK
Cbra is one among the Google for Work Partners focused on helping organizations adopt Google Apps.
Google Apps for work is a productivity Suite on Cloud that helps your team connect and get work done from anywhere anytime on any device. Work the way you live!
INTERVIEWED BY YOURSTORY.COM
Our very own MD, Mathanraj Vibranarayanan, interviewed by YourStory Media Pvt. Ltd., Bangalore, India.
YourStory.com is India's no.1 media platform for entrepreneurs, dedicated to passionately championing and promoting the entrepreneurial ecosystem in India.
BIZCOVER JAPAN – TAMILNADU CHAMBER OF COMMERCE
Graphicem [A graphic designing division of M/s. Cbra] is very much delighted to design a logo for Bizcover Japan by Young Entrepreneur School – TN Chamber of Commerce. Its a business delegation visiting South Korea, Japan and Hong Kong to meet / interact with young / successful entrepreneurs, especially in SME sectors, to facilitate Buyers-Sellers meet and support in organizing one-on-one meeting with Japanese chamber of commerce / trade associations in Seoul / Tokyo / Osaka.
AMERICAN COLLEGE – JUDGEMENT
As an alumni of The American College, honoured to be part of judging panel at the Annual Program conducted by Computer Science Department of The American College.
SOCIAL RESPONSIBILITY – THIRAN WEBSITE
Cbra is proud to be part of an initiative, by Rotary Club and Devadoss Multi-speciality Hospital, in developing a web portal for differently-abled persons www.thiran.co and our special thanks go to Mr. Gunasekar (President – Rotary Club Madurai Metro). We value his patronage and appreciate his confidence in us.
OFFICIAL WEBSITE FOR YOUNG ENTREPRENEUR SCHOOL (YES) – TAMILNADU CHAMBER OF COMMERCE
Thanking Young Entrepreneur School (YES) Management and all its Members for providing Cbra with an opportunity to develop a website for Young Entrepreneur School (YES) and appreciate their confidence in us. Counting them among our clients is something for which we are especially grateful. Young Entrepreneur School (YES) is the entrepreneur development forum of Tamil Nadu Chamber Foundation where a group of passionate young entrepreneurs meets to hone their business skills, enhance their business knowledge, develop a positive attitude and learn the latest in global business practices to achieve success professionally and personally. Headquartered in Madurai, YES has chapters in Sivakasi, Dindigul, Ramnad, Chennai, Karur, Tirunelveli, and Salem with more than 1200+ members from diverse industries.
MoU WITH THIAGARAJAR COLLEGE OF ARTS AND SCIENCE
DigitAll workshop held at Thiagarajar College for all digitall members…
THIAGARAJAR SCHOOL OF MANAGEMENT (TSM) – YUKTI WEBSITE SPONSOR
Happy to be a Website Partner / Sponsor for Yukti – Thiagarajar School of Management (TSM).
YUKTI (meaning strategy), Thiagarajar School of Management (TSM) annual business school summit, is one the largest business conclaves in India with thousands of participants from various prestigious B-schools.
OFFICIAL DESIGN AGENCY FOR YESCON 2016
Cbra is glad to have been associated with the special event YESCON 2016 right from the beginning and delighted to design all brand collateral's for the event.
YESCON is the annual two-day conference of YES where members innovatively showcase the passion and dedication with which they have built their organizations. Packed with practical insights and inspirational real-life stories, YESCON is designed to make YES members realize the excitement and enrichment of their personal entrepreneurial adventure.
BIZCOVER AMERICA – TAMILNADU CHAMBER OF COMMERCE
Graphicem [A graphic designing division of M/s. Cbra] is very much delighted to design a logo for Bizcover America by Young Entrepreneur School – TN Chamber of Commerce. Bizcover America, a business delegation with 100 Members, comprises entrepreneurs from various YES Chapters – Madurai, Chennai, Dindigul, Ramanathapuram, Karur, and Sivakasi who are into various trades from sweet manufacturing to pharma and handloom with a turnover from Rs 1 crore to Rs 100 crore. The team visited US India Business Council, New York, Washington, Niagara, Orlando, Miami, Las Vegas, Los Angeles, and San Francisco.
PARTICIPATED IN DIGIT ALL MEETING
DIGIT-ALL அமைப்பின் சிறப்பாக நடைபெற்ற அடிப்படை பயிற்சி கூட்டம், எண்ணற்ற உறுப்பினர்கள் கலந்துகொண்டு பயன்பெற்றனர்.
JUNIOR CHAMBER INTERNATIONAL (JCI) WEEK CELEBRATION
Training on Branding & Business Exchange Program of Jaycees of Madurai was held on Sept – 09, 2015, and Mr. Mathanraj Vibranarayan @ Cbra, has been invited as a guest speaker and Brand trainer for the event.
RECOGNITION FOR BEING A PART OF YESCON 2014 COMMITTEE
Recognition for being a part of YESCON 2014 committee.
INTERVIEWED BY YOURSTORY.COM
Our very own MD, Mathanraj Vibranarayanan, interviewed by YourStory Media Pvt. Ltd., Bangalore, India. YourStory.com is India's no.1 media platform for entrepreneurs, dedicated to passionately championing and promoting the entrepreneurial ecosystem in India.
ONLINE QUIZ AT YES – TAMILNADU CHAMBER OF COMMERCE AND INDUSTRY
Winner in Online Quiz Conducted on Year 2009 – at YES – Tamilnadu Chamber of Commerce and Industry. Feel very proud to receive the prize from Mr. Karumuthu T. Kannan – Managing Director of Thiagarajar Mills Ltd.
GROUP PARTICIPATION IN THE COMPETITION AT ANNIVERSARY CELEBRATION YEAR – 2009
Member from left Sathish @ Eagle Masala, Uthaman @ NithyaKalyaniChits, Muralikrishnan @ Kalyani Associates, Sivasankar @ New VVBJP – at YES – Tamilnadu Chamber of Commerce and Industry..
CBRA'S NEW OFFICE INAUGURATION CEREMONY
We're honored by the presence of YES chairman Mr. Neethi Mohan – Managing Director of Vaigai Agro, Dungar Chand U Jain – Chairman of the Madurai Branch of SIRC of ICAI, esteemed clients, and well-wishers/friends.
  INDIA
160/1, Kamarajar Salai,
(Near Nirmala Girls School),
Madurai – 09, TN, India.
  UAE
Unit TL.4F.64, RAKEZ Amenity,
Center RAS AI Khaimah,
United Arab Emirates.
  Canada
111-11g Cherryhill Blvd, London,
Ontario, Canada,
North America.
© 2022 CBRA. All Rights Reserved